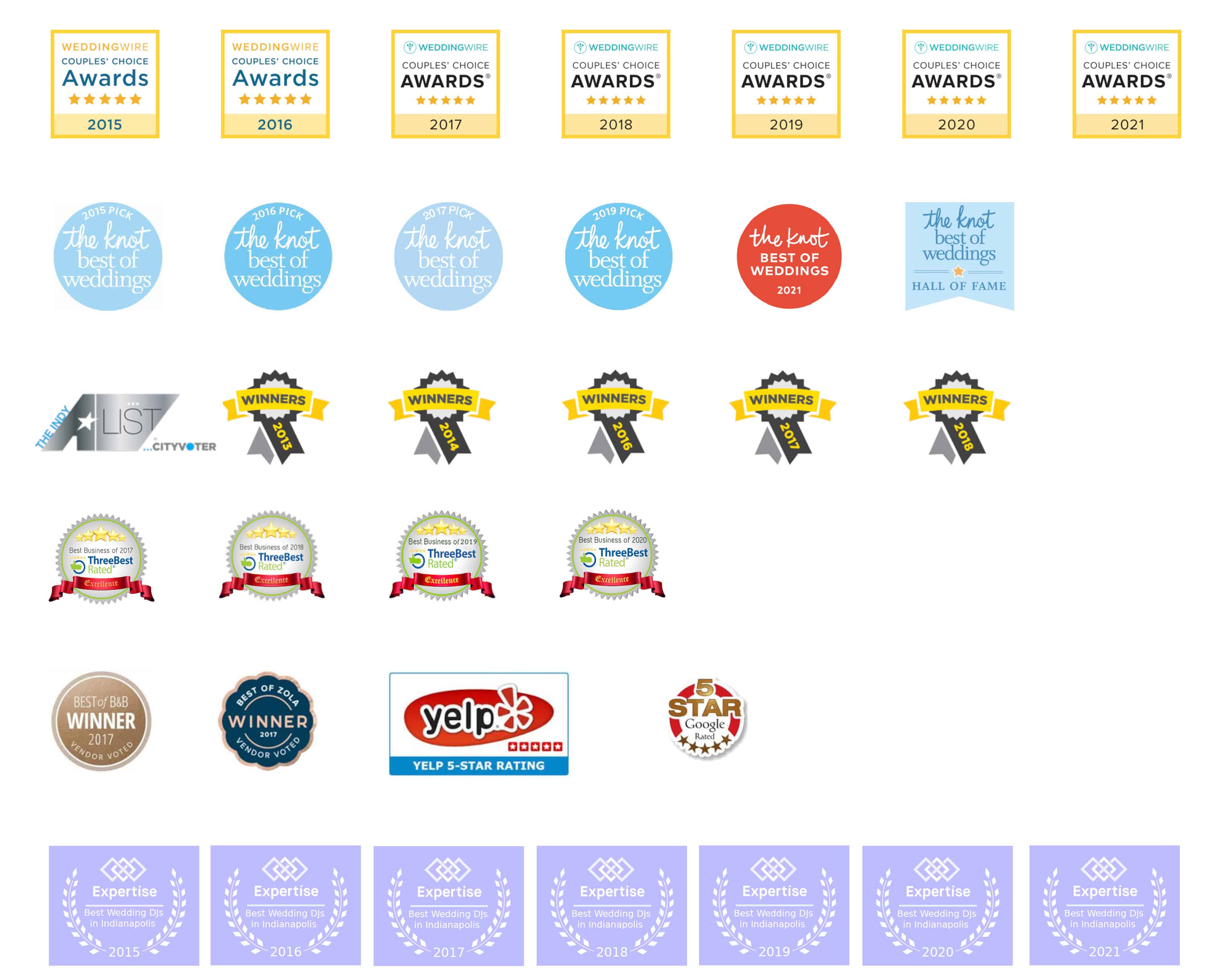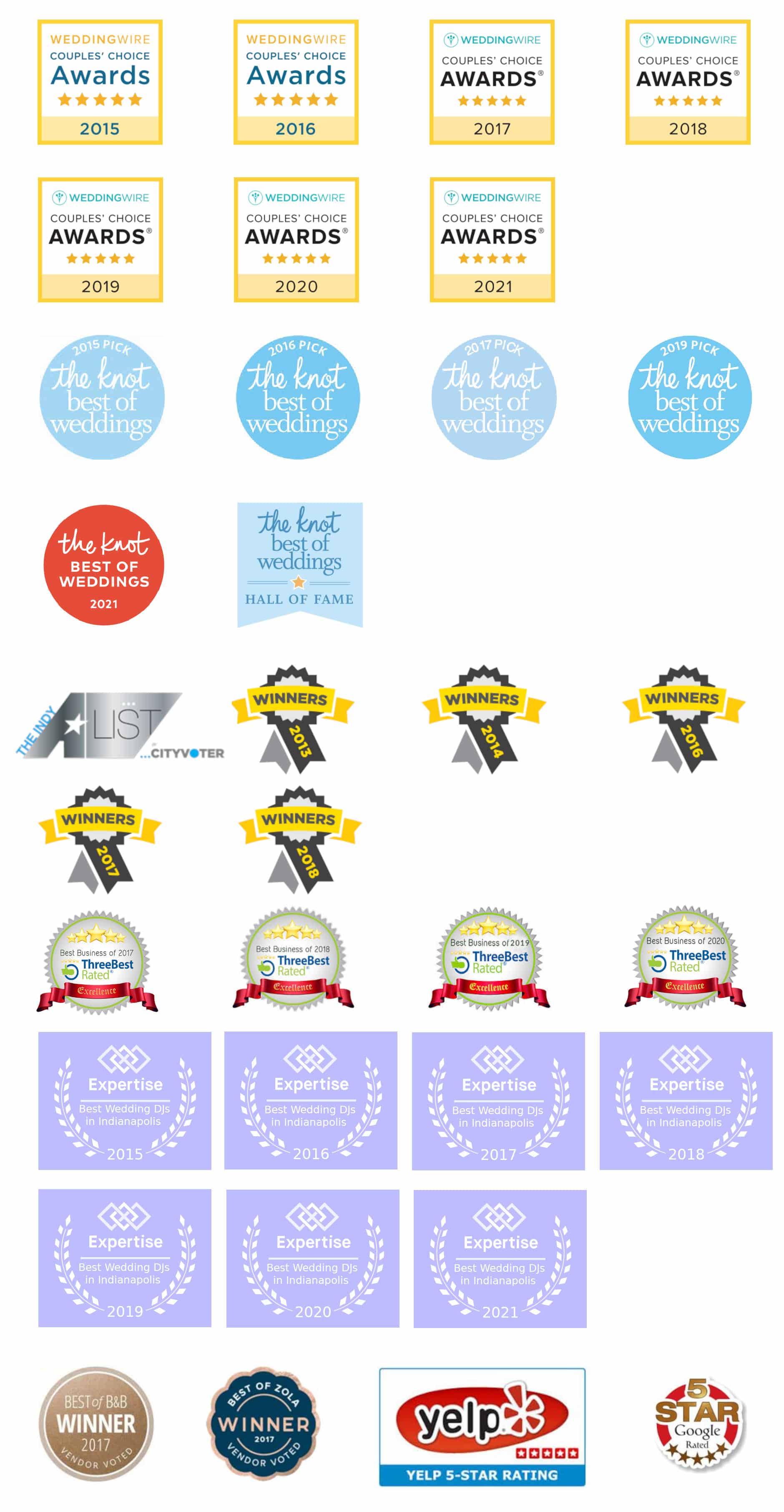 We have been inducted into The Knot Hall of Fame. 
Best of The Knot 2015, 2016, 2017,2019, 2021, 2022, 2023

Couples Choice Awards 2015, 2016, 2017, 2018, 2019, 2020, 2021

Expertise 2015, 2016, 2017, 2018, 2019, 2020, 2021,2022,2023

Three Best Rated 2017, 2018, 2019, 2020, 2021, 2022, 2023

Wedding Rule 2020, 2021, 2022, 2023
Borrowed and Blue Award 2017
Top 5 of Indy's Best 2013, 2014
Top 3 of Indy's Best 2016, 2017, 2018, 2019

Best of Zola Vendor Voted 2017
Accolades by Old Fashioned Mail 
We are just like you and get crazy excited when we get something special in the mail.  We love getting thank you cards!  Here are a few we just have to share!
Glowing Reviews From Real Couples
This is what we really care about, is your experience and making life long memories for you!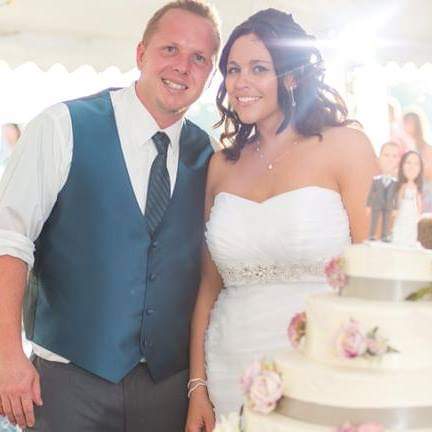 Megan D. Said:

I used Mike as the DJ for my wedding. He did an amazing job! He was quick to respond when I had questions and I found him to be very helpful and informative. If you are looking for a fun, energetic DJ with a great personality use this company. We loved Mike and would recommend him for any event needing a DJ. His fun personality helped make the reception more enjoyable. We are very happy with our decision to use Lights Out Entertainment. 🙂
(source Google)
Farrah T. Said:

JT was awesome and so helpful from planning through the wedding day! He took the time to get to know us and our tastes and made some great recommendations for our timeline before the wedding. During the wedding, he went above and beyond to make sure things were running smooth and we were taken care of. He provided exceptional service and the music he played was absolutely perfect for each moment/mood! Our guests really enjoyed the music and we received a lot of compliments. We couldn't have asked for a better DJ!
(source: Wedding Wire)
Jennifer K. Said:

Mike was exactly what we were looking for in a wedding DJ. He was super thorough and really got to know us as a couple. Because of that, he played exactly the kind of music that we wanted. He did a great job of keeping the energy high throughout the entire night. And he was constantly checking on us to make sure that we were having a good time. I can't say enough good things about our experience! I would recommend this DJ to anyone!  (source Wedding Wire)
James W. Said:

JT was super helpful the entire event and leading up to it. JT was very communicative leading up to our wedding and left us with no questions unanswered. JT handled children well and made the evening go smooth with no stress. I would hire him a million times over. (source: The Knot)
Dawn S. Said:

We can't say enough good things about Mike! Our daughter's wedding ceremony was in our backyard and Mike handled all of the ceremony music, sound, mic'ed the officiant and groom, etc. He was ready for every possible scenario (which included a really windy day). No longer were the "I do's" done then he was up at the reception venue. His equipment worked perfectly for both venues, his communication and prep during wedding planning were always timely and professional. He had the guests up and dancing early and the bride and groom were still dancing when we started to tear down. Mike did a great job choosing the music for the crowd and honoring the bride and groom's musical tastes. His announcements were always appropriate and fun, never overbearing or cheesy. We could not have been more pleased. Mike is an absolute pro! We would recommend him to our closet friends (source: The Knot)