Wedding and Event Lighting.
Uplighting what is it?
Uplighting is an industry term. It sometimes is referenced at Accent Lighting, Room Mood Lighting, or Architectural Lighting.
Uplighting transforms an excellent event venue into wow! It sets the tone and mood in a distinguished, elegant way. Uplighting is one of the most commonly requested add-on options we offer. Up to 20 Wireless Led Uplights are provided in our Refined Elegance and Simply Everything Wedding Plans.
It is easier to show you this excellent lighting feature. It makes a dramatic difference and adds to the atmosphere!
Gobo 
Gobo's are another event industry term. Chances are, if you don't work in the event industry or theatrical production industry, it is a term you would not know. A gobo is typically a steel or glass plate that has a specific image on it. They require a unique light source fixture that will enlarge the projected gobo image on a floor, wall, or ceiling.
You see Gobo's and their projectors labeled as "Your Name In Lights," "Monogram Gobo," "Light Monogram," "Monogram," "Initials and Date on the Dance Floor" See photo below of gobos.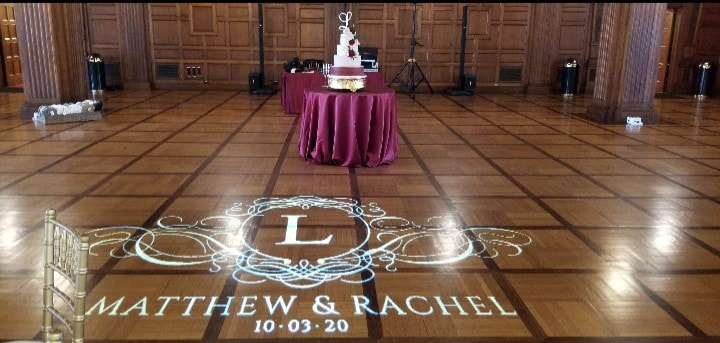 Animated Monogram
Some in the industry refer to them as "Moving Gobos," "Animated Gobos," "Moving Monograms," "Living Monograms," "Video Gobos," "Video Monograms." Animated Monograms are sure to add that extra special touch to your wedding!
These are very similar to a Gobo, but it uses a much more advanced type of technology. It would be easiest to show you a video.
(tap on the circles below)
What Do You Need And Want For Your Wedding? 
Click on a circle below to learn more